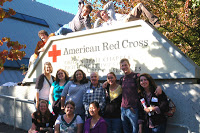 The security at OTC is first-rate. Just minutes after some enthusiastic VISTA members climbed atop the American Red Cross sign, a guard walked out the revolving door asking that the (over?) zealous young men keep their feet on the ground. With an abundance of enthusiasm, zeal, and passion it has been difficult for many of the members of the Clara Barton VISTA Corps (CBVC) to keep their feet on the ground.

In 1963 President Kennedy first envisioned a domestic program modeled after the Peace Corps, and in 1964 Volunteers In Service To America (VISTA) was created when President Johnson signed the Economic Opportunity Act of 1964. Then in 1993 Bill Clinton signed the National Community Service Trust Act creating AmeriCorps. Simultaneously, VISTA joined the program with two other branches- State and National and National Civilian Community Corps.

The Oregon Trail Chapter of the Red Cross hosts the grant for the Clara Barton VISTA Corps that partners with a handful of organizations across the state. Through the Red Cross these partner organizations receive a VISTA position with a member who is not only available to bring the Red Cross into communities but also as a resource for achieving the VISTA goal of preventing and transitioning people away from poverty through indirect services such as sustainable program development, capacity building of organizations and communities, and understanding poverty by living it. One position of the thirteen-member team the CBVC is placed with the Red Cross and the Oregon Trail Chapter in Disaster Services.

The CBVC isn't the only show in town. The OTC also hosts the grant for Oregon State Service Corps (OSSC) an AmeriCorps State program with the goal of addressing community needs through direct service in areas such as disaster preparedness and response, education, and health and human needs. Of the forty-five-member OSSC team, seven members are placed with the Red Cross- four with the OTC in Portland, one with the OTC in Astoria, and two with the Willamette Chapter in Salem.

After six months into the 2008-2009 service year the Clara Barton VISTA Corps has secured $51,096 of in-kind donations, has raised $97,094 of total cash funds, provided 318 hours of disaster response, organized 14 fundraising events, recruited 259 new volunteers, as well as written and submitted 17 grants, 4 of which were funded. Imagine what will happen if CBVC follows the advice of OTC security and gets their feet under them.