Poll: What Kind Of News Do You Want?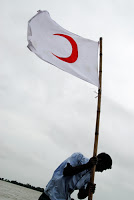 As you know, Robin and I recently jetted off to Chicago for a meeting with an incredibly awesome group of Red Cross communications professionals. We had folks from chapters around the country, our national headquarters and even representatives from the International Committee of the Red Cross (ICRC).
Much of our time was spent talking about two things — the International Red Cross and Red Crescent Movement and how we can share international news and create culturally-sensitive materials for our communities back home.
We're all for embracing multiculturalism here at the Oregon Trail Chapter (check out the video!), but we also know that our hearts belong to Oregon. We're constantly searching for the right balance of local, national and international here on the blog and we want to make sure we're hitting the mark.
Tell us what you think — there's a poll in the top right corner just waiting for your vote!
Photo: Jenny Matthews/British Red Cross (p-BGD0243)