Don't Be A Fool — Learn About Earthquake Preparedness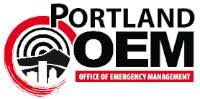 No foolin' — April 1 kicks off Earthquake Preparedness Month. And since I know you like to plan out your celebration well in advance, I thought I'd tip you off to the event that the City of Portland has put together in honor of the occasion.
On Wednesday, Portland's Office Of Emergency Management (POEM) will host a "fascinating, yet sobering" presentation on earthquake risk in the Pacific Northwest, from noon to 1 p.m. in the second-floor auditorium of the Portland Building (1120 SW 5th Ave.).
According to the press release, the main presenter, James Roddey (Earth Sciences Information Officer from Oregon Department of Geology and Mineral Industries), will present "what is heralded as a fascinating and eye-opening reality about the Pacific Northwest experience with earthquakes." POEM will also educate attendees about its role in the City and its emergency preparedness plans.
There's really no excuse not to attend; the event is free and open to the public.
And if you want earthquake preparedness tips, you can check out what POEM has and what we have. Cross your fingers we're all in agreement…