"One million sandbags—and they aren't stopping…"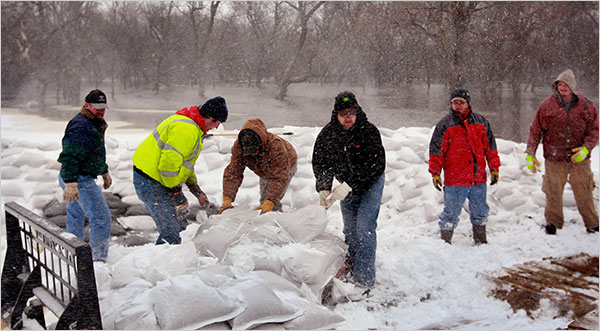 We just had a post about the weird weather going on around the states. But being a news junkie, I was poking around online and stumbled onto a powerful statement by Speaker of the House Nancy Pelosi on the flooding situation in North Dakota (with a chance of a river swell over 40 feet). Her words on the impact of "neighbors helping neighbors" are pretty inspiring:
"North Dakotans are no stranger either to the ideal of neighbors helping neighbors. Through the weekend and early parts of this week, thousands of people — including high school and college students, National Guardsmen, women, and our own Congressman Earl Pomeroy, among many others — have stood shoulder-to-shoulder, filling sandbags to protect Fargo and other cities from the dangers of rising waters."
I think, amid the severity of this emergency, it's important (and reassuring) to see stories such as these to remind us that some of our most valuable resources are often each other.
Photo courtesy of nytimes.com