Did someone say free Burgerville?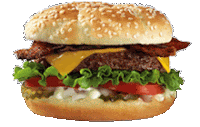 I love Burgerville. I don't usually eat fast food, but there's something about their (veggie)burgers that I just can't resist…and their berry yogurt smoothies and their sweet potato fries and their onion rings and their secret sauce…and now I'm super hungry.
If you share my love of Burgerville, then come join us tomorrow at our
Open House
event at the Red Cross in Portland (3131 N. Vancouver Ave.) from 10am – 3pm. Burgerville will be outside cooking up a hamburger BBQ beginning at 11:15am (sorry, fellow vegetarians, but it's all beef).
Don't forget to come inside the building to check out what's going on — there will be balloon art for kids by
Jolly Molly the Clown
, face painting by
Fun Faces
, prizes, popcorn, pop, chips, and tours of Portland's
Blood Donor
Center.
Come celebrate Red Cross Month and learn how the Red Cross is at work in your community!