No Free Lunch; Yes Free Training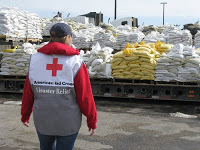 With the economy the way it is, you might be thinking about going back to school. But unless you manage to get into this program, it's probably going to cost you a pretty penny.
But there is a way to pick up some special skills — whether they be driving an oversize vehicle or handling media interviews — all for free.
Sound too good to be true?
Well, I assure you this is all on the up-and-up; it's disaster volunteer training and you can see a lengthy list of upcoming classes right here.
There is one class that everyone has to take called "Fulfilling Our Mission," which gives you a great overview of the American Red Cross and our role in a disaster. From there, however, you can move on to learning about public affairs or client casework or operating a shelter or driving an emergency vehicle….and much more.
If you've got special licensure (think RNs or psychiatrists/psychologists), the training time can be even shorter, as your existing skills and knowledge are invaluable. Still, generally speaking, the time investment of anywhere from 4 hours to several days is tiny compared to the big rewards you'll reap.
If you're interested in picking up new skills, free is a very good price. Become a disaster volunteer!
Photo courtesy of Claire Sale/American Red Cross