North Dakota: How We're Helping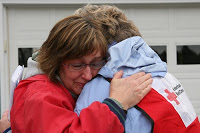 Just to give you a quick update on how Oregonians are helping out in North Dakota:
On Saturday morning, two volunteers from our chapter headed to Fargo to help with response efforts — Holly D. is providing nursing assistance and Carol G. (who generously helped with interviews on KGW, KXL and KOIN) is providing mental health support. There are no additional deployments scheduled at this time.
As of this morning, the American Red Cross had opened six shelters and provided well over 630 overnight stays to date. Nearly 700 Red Cross disaster volunteers have worked in the area, helping share more than 38 thousand meals and nearly 110 thousand snacks to evacuated families and emergency workers.
If you're looking for more information, photos and/or video, I'd urge you to visit the Red Cross online newsroom.
Photo courtesy of Virginia Hart/American Red Cross