No Joke: Comedy CPR Is Coming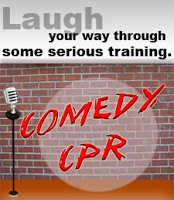 "A new study claims that mouth-to-mouth resuscitation is not necessary during CPR and it's better to skip right to chest compression. However, the study says that you're still required to snuggle for a half hour afterwards."

– Conan O'Brien
Well, this proves it. CPR can be a laughing matter, particularly when a professional comedian is involved.
If you're looking for more humor with your Heimlich (yes, I know…
abdominal thrusts
), you might want to check out our brand-spankin' new
Comedy CPR classes
. The first one will be held on April 17 at our headquarters; the second's in SE PDX over at
The Blue Monk
.
Wondering who's presenting this gem of a class? Local comedian
Art Krug
. And he's not just doing this to make you laugh — his wife actually saved
his
life using CPR.
It's just like we've always told you: Our classes give you the skills to save a life — your own or someone else's.
Sign up
!