Dough-nate for the Doughnuts!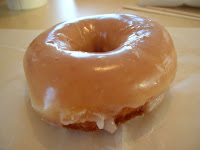 What would you do for a free doughnut? How about help save some lives?
Every Tuesday, Thursday, and Saturday, blood donors can satisfy their sugar sensations with fresh Krispy Kreme Doughnuts in the canteen reception area at the American Red Cross Portland Center (3131 N. Vancouver Ave.). While supplies last, of course (get here early!).
So come help save lives AND indulge in sugary goodness. What more could you want? If you donate on a non-doughnut day, don't worry! We still have plenty of sweet treats (cookies!) to help get your blood sugar levels back up.
Personally, I try to strategically plan my blood donation appointments on doughnut days. This is how it usually goes:
Donate Blood. Eat doughnut. Take nap. Help save lives…
It's really like the ideal day!
Photo from Flickr