Traces Of Hope: Helping Oregonians Find Their Loved Ones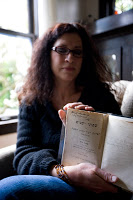 Speaking of the many things that we do…
One that is often overlooked is our work with Holocaust tracing. As we approach Holocaust Remembrance Day on April 21, Adrian Chen at Willamette Week took the time to speak with some of the Oregonians we've served about their ongoing search for information about their loved ones.
The article is so good that I'd rather you read it yourself than recap it here.
Just one word of advice — keep the Kleenex handy.
Image courtesy of Darryl James