Last Night In Laurelhurst…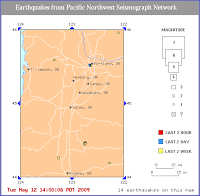 …there was an earthquake.
It's no lie; according to this article, about 2,000 Portlanders in Laurelhurst and Ladd's Addition felt the 2.6 tremor last night at around 9:34 p.m.
Given that this has happened twice before in the same area, if I was a homeowner in SE Portland (and, mind you, I am), I'd go ahead and read over these earthquake preparedness tips…just in case.
Wait. I take that back. Homeowner, renter, SE PDX, NW PDX — as long as you're an Oregonian, take the time to get prepared.