Celebrate World Blood Donor Day on 6/14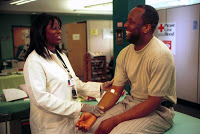 This Sunday 6/14 the American Red Cross joins thousands of other organizations and individuals around the world to recognize blood donors on World Blood Donor Day. The goal of the day is to raise awareness about the constant need for safe blood all over the globe.
So how will you celebrate World Blood Donor Day? I have a suggestion for you. I bet you can't guess what it is! Ok, I'll tell you…you can make an appointment to donate blood by calling 1-800-GIVE-LIFE or by clicking
here
.
To learn more about this unique holiday and special events associated with the date, click
here
.