Sharing Stories Of Survival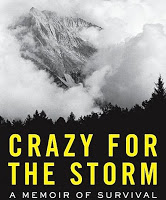 What goes hand in hand with disasters? Survivors.
Whether it's Pierce Brosnan and Mayor Rachel surviving the inferno of Dante's Peak (yeah, I totally watched it last night) or the rugby team that survived 72 days in the mountains, I'm a sucker for survival stories of all types.
Here at the Red Cross, we try to get people prepared for anything…even the unexpected. Packing wilderness essentials can help; knowing CPR/first aid is useful as well. But sometimes you just have to depend on your smarts and plain old luck to get you through.
This is why I read the reviews of "Crazy for the Storm" and "Down Around Midnight" in this Sunday's Oregonian with interest. Two plane crashes; two survivors; two compelling stories.
Oh, and one author reading. Check out Norman Ollestad as he reads from "Crazy for the Storm" at 7:30 p.m. Wednesday at Powell's City of Books, 1005 W. Burnside St.
Attending? Let us know if you pick up any good survival tips…