Prepare-aphernalia: Pocket Posh Game Books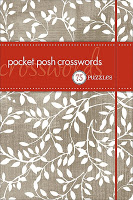 If you listened to the first episode of Ready Radio, you know that we talked about how to stay entertained while you shelter in place.
While we mostly focused on card games and board games, we did touch on some activities that are perfect for word (and number) nerds.
To that end, I thought I'd point out these incredibly cute "Pocket Posh" game books, which ensure that you don't forsake style, even in a storm. Crosswords, Sudoku, Word Search, Logic and many more, your $8 investment will be much appreciated when you've got hours to kill.