Our Hillsboro Mitigation Project By The Numbers!
Together We Prepare Hillsboro was our weekend project that's received a few posts already. To truly see the accomplishments of this event, here are the numbers for supplies we distributed, people we connected with and information we gave out:

62 volunteer and employee staff took the weekend to prepare Hillsboro

81 households have working smoke detectors that didn't before

500 first aid kits were distributed to individuals in Hillsboro

1456 families received emergency preparedness information

686 people had direct contact with a Red Cross canvasser
We also heard conversations on how the Red Cross impacted lives throughout this Hillsboro neighborhood; whether through skills gained through classes, receiving blood donations or reaching out to family members in the military.
Our walkers were invited into homes to check on fire safety issues such as working smoke alarms or to change batteries. Back at the Cooler Club headquarters, several additional people noticed our Red Cross canopies and were reached as well through information, smoke detectors and first aid kits. Lastly, one family we met stressed the timeliness of this project, as they had just experienced a house fire themselves.

This event could not have happened without the coordinated efforts of many dedicated staff members and volunteers.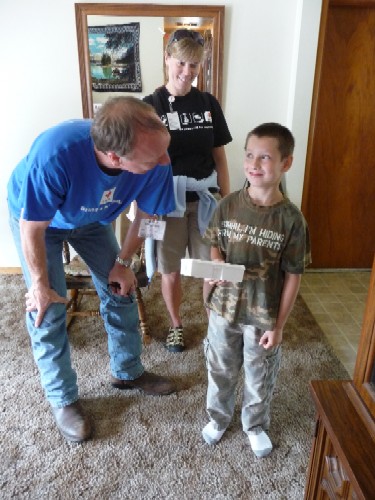 This little boy was excited to take on the role of preparedness coordinator for his entire household.