Classic Prepare-aphernalia: The Swiss Army Knife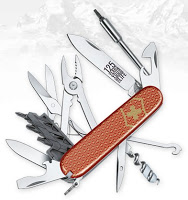 Standard issue for the crew of the space shuttle. Displayed at the Museum of Modern Art. You can't get any more classic than the Swiss Army knife, one of the most compact and useful pieces of prepare-aphernalia I can think of.
PRI's The World reviewed the history of the Victorinox staple and I have no doubt you'll find the story fascinating.
And while I can't send you to Switzerland for the Swiss Army knife exhibit — sorry, I get to go first!! — I can send you there virtually by way of this blog, which has a great collection of photos for your perusal.
Of course, you can also visit the 125th anniversary website where you'll sadly note that the traveling exhibit passed through Seattle in June. Like the Emerald City needs a little red knife…hmph.