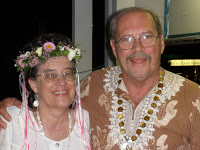 How's this for a cute story?
LaRee considers it her responsibility as a Red Cross volunteer to make sure that people feel comfortable after giving blood. As a warm and gregarious "cookies and juice lady," LaRee often sits and chats with donors in the canteen after providing them with sugar-level-boosting snacks and drinks. The social interaction is her favorite part of the job.

On one particular Monday evening in July of last year when LaRee was volunteering, a handsome blood donor named Harlan caught her eye. After Harlan completed his blood donation, LaRee dutifully offered him some sugary treats and a cup of coffee. Their connection was instant.

LaRee, 62, had been widowed for seven years. Harlan, 63, was also single, but had given up looking for love. During their first conversation at the Red Cross, Harlan told LaRee that he admired her for spending time volunteering. LaRee, in her charming, witty way replied "I'm not doing this for the dedication to society; I'm a widow on the prowl."

Not surprisingly, after that first night when Harlan met LaRee, his blood donation appointments began to regularly fall on Monday nights when she volunteered. "I turned on my charm, and he bit my hook," says LaRee playfully.

LaRee and Harlan went on their first date at the McMenamins Kennedy School in Portland. Nearly a year later, still hooked on LaRee, Harlan proposed. Nine days after that, they were married at a small church reception with a few close friends and relatives by their sides.
Already have a honey? Looking for love is just one of many reasons to spend time volunteering with the Red Cross. You'll help others by volunteering and, in return, you'll probably feel better about yourself. It's a win-win situation.
For more information about volunteer opportunities at the American Red Cross Pacific Northwest Blood Services Region, visit: http://nwblood.redcross.org/volunteers.
Photo: LaRee (Red Cross volunteer) and Harlan (Red Cross blood donor) on their wedding day (July 2009)