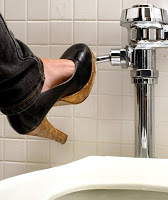 If you avoid shaking hands or, worse yet, flushing a public toilet with your fingers, you might just be a germ-a-phobe.
[And if you watch Glee like I do, Emma — with her adorably color-coordinated outfits! — is a perfect example.]
Germ-a-phobes have always filled our workplaces, but their ranks are growing with concerns about H1N1. Gone are the communal candy dishes; here are the bottles of hand sanitizer.
Anyway, I highly recommend checking out today's article from the Portland Tribune for a deeper look at germs and the people who hate them. One interesting tidbit? Office desks are 400 times germier than toilet seats.
And now that you've read that, I recommend getting busy with some keyboard sanitizing wipes and flu safety tips. Ick.
Photo courtesy of the Portland Tribune's L.E. Baskow