Have You Had Your Flu Shot?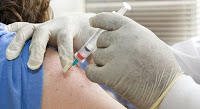 Guess what I did this morning?
I got my flu shot.
No, not the H1N1 vaccine…just the regular seasonal version. But, in my mind, the needle prick is well worth it — I've had the vaccine every year for about 10 years now and, in all that time, I've never had the seasonal flu.
My fingers are crossed this year and if the opportunity arises to get the H1N1 vaccine, I'll be all over that as well. Along with washing hands, it's just one more way to be ready for anything.
And, BTW, the H1N1 vaccine is winging its way to Oregon as I type. Check out the current priority list. And if you want to brush up on your flu prevention know-how, look here for all our safety tips.
Image courtesy of Lance McCord