Cardiac Arrest? Just Chill Out…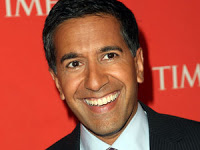 If someone goes into cardiac arrest and there's no help from bystanders, their chance of survival is 3%.
If someone simply steps in to help, that survival rate can go up by 400 to 500%.
This point was driven home while listening to last night's interview with Dr. Sanjay Gupta on Fresh Air.
The topic? Medical breakthroughs that have brought life back to people who were considered brain dead, as related to the doctor's new book, "Cheating Death: The Doctors and Medical Miracles that are Saving Lives Against All Odds."
The conversation runs through a variety of topics, but what I found most interesting were Gupta's comments about sudden cardiac arrest (skip to 6:30). Here's just a quick synopsis:
1. He tells a story of a Norweigan woman who died in a frozen stream, but was kept cool and then "re-warmed" several hours later…and survived.
2. He goes on to talk about hypothermia as a therapy for sudden cardiac arrest, right down to paramedics carrying ice-cold saline (as well as AEDs) on their ambulances.
3. He also talks about the effectiveness of "compression-only" CPR and why people hesistate to give mouth-to-mouth to strangers. Gupta's bottom line — If you come across someone who has suffered from cardiac arrest, "Call 9-1-1, push on their chest 100 times per minute, and don't stop for anything."
It's silly to expect that you'll have chilled saline on hand in an emergency, but you can definitely learn the skills to save a life. Most peoples' hesitation to respond was based on the fact that they didn't know what they were doing when it came to CPR…don't let that be you!
Photo courtesy of Stephen Lovekin/Getty