We All Scream For Freeze-Dried Ice Cream!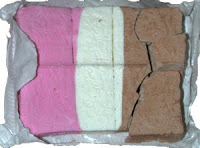 Our friend Magi's comment on yesterday's post reminded me of my childhood…
Or, more specifically, visits to OMSI where I got to indulge in the very special treat of freeze-dried ice cream!
While I remember the classic Neopolitan, evidently "astronaut" ice cream comes in varieties including double chocolate, mint and cookies 'n' cream. What's more, there are actually freeze-dried ice cream SANDWICHES. Ultra yum.
So you know where I'm going with this, right? Freeze-dried ice cream is the perfect — PERFECT — addition to your disaster kit. Especially if you've got kids. I mean, they might balk at a 1000 calorie food bar, but astronaut ice cream? I'm pretty sure that will go over really well in an emergency.
In a quick Internet search, it seems the shelf-life is anywhere from 2 to 7 years, so you can all scream for ice cream for a mighty long time!
P.S. In awesome state trivia, it looks like Oregon Freeze Dry, Inc. in Albany is a pioneer in the field, working with NASA in the 1960's and still making foods for the shuttle flights. If you want to order your ice cream straight from the local source, you can do that here.
P.P.S. If you really want to entertain the kiddos post-disaster, try picking up this Space Food Sampler, which includes "Splashdown Flavor Stix" for bottled water. Fun!