Prepare-aphernalia: Shelf-Stable Salmon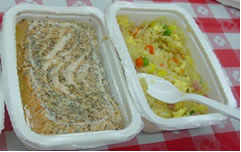 I can't think of anything that would be more comforting after a disaster than some carb-filled macaroni and cheese.
Or how about a salmon fillet and a side of rice?
Sounds impossible, right? But thanks to researchers at Washington State University (home of the infamous Cougar Gold cheese!), we just might be able to add these delicacies to our disaster kits.
According to this press release, Juming Tang, a professor in the WSU Department of Biological Systems Engineering, led a team of university, industry and U.S. military scientists to develop a microwave energy technology for producing pre-packaged, low-acid foods. The outcome results in food with a longer shelf life as well as better flavor and nutritional value compared to more traditional food processing methods such as canning.
Since the FDA has approved the technology, these shelf-stable staples could be coming soon. Get all your questions answered — especially the ones about shelf life and storage — now.
And, while we wait for these products to come to market, go add the already shelf-stable (and delicious!) Cougar Gold to your disaster kit!