A Non-Christmasy Holiday Card
I'll admit it — I am generally not filled with holiday spirit.
Yes, I'm the curmudgeon who snaps back with "Happy Holidays." to your "Merry Christmas!" The one who gripes about festive decor going up before Thanksgiving; who plugs her ears at the sound of caroling; and who even refuses to see a very nice friend perform in The Singing Christmas Tree.
Just call me The Grinch.
But I do believe in sending good, positive wishes in the direction of people I care about, especially during this time of the year. I believe in giving gifts that make a difference and writing thoughtful notes.
So if you, like me, are looking for the perfect non-Christmas, non-holiday card to pass along to friends and family, I've got the perfect suggestion.
Head over to Ecru Modern Stationer in the Pearl and pick up this letterpress gem. The "whether the weather" message is just wintery enough and the sentiment is genuine and sweet. It's simple, classy and 100% (all $4.95!) goes to support the Oregon Trail Chapter.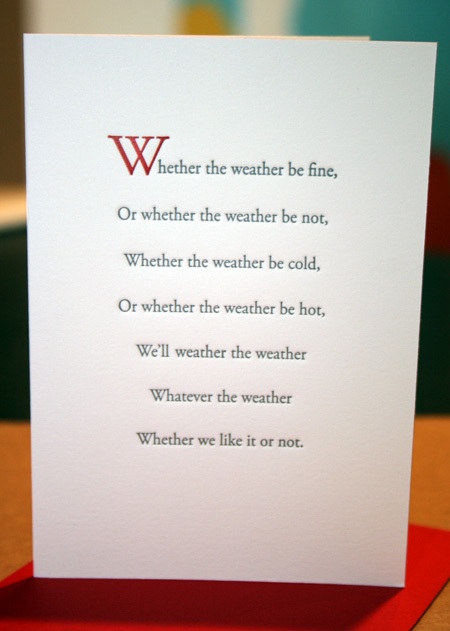 If you don't live in Portland but still like the card, I'm pretty sure you can call the incredible LeAnn at 503-227-2611 and ask her to ship you what you need. Portland or Poughkeepsie, I'm pretty sure there's a few of us Grinches everywhere!