Freezing Temps = Emergency Warming Centers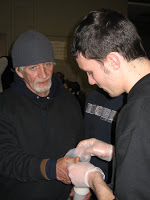 It's that time again…
Our Emergency Warming Centers — designed to serve the homeless on the very, very coldest of nights when all other shelters are full — will be open this weekend!
You'll find hot drinks, warm blankets and lots of friendly volunteers in these locations:
Saturday, Dec. 5
9 p.m. to 7 a.m.
Lents Seventh-Day Adventist Church
8835 SE Woodstock Blvd.
Sunday, Dec. 6
9 p.m. to 7 a.m.
Portland Foursquare Church
1303 SE Ankeny
FYI that the City of Portland sets the (very strict) weather guidelines for when they do (or don't) ask us to operate. If you want to know what they all are, you can see the list here.