Celebrating Another Year Of Life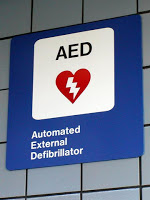 Today is the last day we're accepting hero nominations.
Today is also a very special day for a few local heroes…and the person whose life they saved. Here's their story:
It was a year ago today — my friend and I were driving in the snow to go to the gym to work out. As we were pulling into the parking lot, an older gentleman dropped right in front of us. We got out of the truck to help him up, however surprisingly to us, he was in full cardiac arrest.
I began CPR while my friend went to call 911 and someone else brought out the AED. Within another minute, an ER nurse who happened to be coming to the gym to work out was there helping to administer the AED. Within another few minutes the paramedics from Tualatin Valley Fire and Rescue's Progress station were there. It didn't look good — however we all did what we could to try and help the situation.
Tonight, exactly one year later, all of us involved that day including the family of that man, will be gathering for a celebration because that man — Charles — made a full recovery.
We have all become good friends since that incident and as I drove into work this morning I found myself recalling all of these events and thanking God for allowing Charles to make a full recovery. At the age of 82, he doesn't look a day over 70.
So this Christmas season, I find myself thanking God even more for those I care about — including all of you. May God richly bless you and your loved ones this holiday season.
Here's wishing Charles many more celebrations ahead. These heroes made that possible; would you know what to do in such a situation?
Photo courtesy of Nemo's great uncle