The Constant Need for O-Negative Blood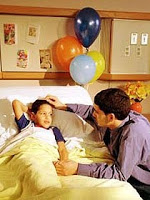 Only 7 percent of people in the U.S. have type O-negative blood. O-negative blood donors are called "universal donors" because their blood can be given to people of all blood types. O-negative type blood is especially important for helping save the lives of accident victims and newborn babies.
If you're out there reading this and you have O-negative blood, please make an appointment to donate. Please also encourage your friends and family members with type O-negative blood to consider donating with you. Call 1-800-GIVE-LIFE to make an appointment. Hospital patients could be counting on your support.