Thinking Of Jordan In Haiti…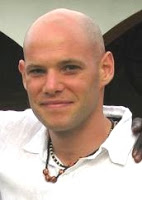 It's one thing to see photos of a disaster. It's another thing to know someone who's on the ground.
As I catch my breath after a busy morning, I've got a little time to think about my friend Jordan Wiley, who's in Haiti working for Medecins Sans Frontieres (Doctors Without Borders).
Jordan's an incredible guy. When he's not working for MSF, he's back here in Portland, helping out with our Red Cross Emergency Warming Center. You can read his volunteer profile here.
This is Jordan's fourth trip with MSF and he's used to danger. He's been in Nigeria and Sudan and now is in the heart of the affected area, Port au Prince. His team runs a stand alone trauma hospital that's open 24/7 and includes three operating rooms and the nation's only burn center. All care is provided free of charge.
Jordan is in charge of Logistics, organizing all the support structure for the medical work to be carried out. The job includes includes Safety, Security, Water, Sanitation, Electricity, Fleet, BioMedical, Supply, Infrastructure and some Administration.
The good news is that I've confirmed that Jordan and his team are safe. I also know that right now is the time when the MSF trauma hospital and Jordan's leadership and expertise are needed most.
Please keep Jordan and his team in your thoughts. Like the Red Cross, the work they'll be doing is life-saving.