Blood & Ink Drive – This Saturday!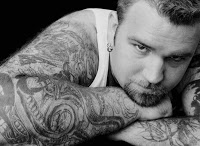 Don't forget that the Blood & Ink Drive is THIS SATURDAY! Please make an appointment–we'd love to get as many tattooed blood donors to give on the same day. Help save lives while helping the Red Cross erase the misconception that those with tattoos can't donate blood (it's simply not true!)
Blood & Ink Blood Drive
When: Saturday, March 6
Where: Red Cross Portland Center – 3131 N. Vancouver Ave. Portland, OR 97227
Time: 7:30 am – 1 pm
Details:
You're invited to join the
Gypsy Queens
by donating blood at this event.
All those who present to donate blood can enter into a free drawing to win a $75 gift certificate to
New Rose Tattoo
in Portland (4823 SE Division Street).
Receiving a tattoo in Oregon—where tattoo parlors are regulated by the state—does not automatically defer someone from donating blood. The state of Washington, however, does not regulate tattoo parlors, and those who receive tattoos in Washington have to wait a year after receiving their tattoo before trying to donate blood again.
Appointments are strongly encouraged. To schedule a blood donation appointment at this drive, call 1-800-RED CROSS or click
here
. To find out if you are eligible to donate blood and to learn more about which states regulate tattoo parlors, call 1-800-737-0902 or email
CanIDonate@usa.redcross.org
. Please help us spread the word about this event!