One Last Bloody Blog Good-Bye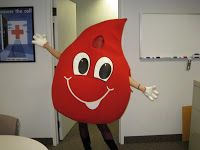 Saturday will be my last day at the Red Cross (sniffle).
I've been thinking about the crazy amount of blood-related knowledge I've attained in the past three years (more than I ever thought I'd know about the sanguine substance). While working for the Red Cross Blood Services, I've learned that blood can be: artful, stylish, sexy, scarce, a baby-saver, lexical, musical, romantic, futuristic and thirst-quenching.
I've also learned
why plasma can be green
, why
kissing bugs aren't as cute as they sound
, and that donating twice as much blood can
double your flavor
. But most importantly, I've learned about the true value of donated blood. The whole process of blood donation is absolutely incredible. To think that what once flowed through my veins is now helping keep the heart of a stranger pumping… it's a bit hard to comprehend such an amazing and charitable scientific feat.
I feel fortunate to have worked for an organization that has a powerful impact on the community. I'm definitely going to miss all the amazing people who work here, especially the blog team (please don't forget me!).
I'm also going to miss you: the reader. Thank you for keeping up on our blog. We hope you find the posts to be didactic—useful, yet entertaining. Keep reading for the latest on hot life-saving action!
Oh, and one last time: GO DONATE BLOOD! This wouldn't be a complete blog post without me asking you to call 1-800-RED CROSS or to visit redcrossblood.org to schedule your blood donation appointment 🙂
Keep it real (I've always wanted to say that to someone)!
-Tara "Bloody" Trullinger
Photo: Me in our Buddy Blood Drop mascot costume. Since I'm leaving, I'm going to be honest: that thing smells bad.