In Memory of Margaret Larsen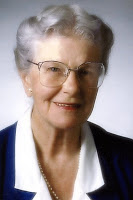 As I understand it, Margaret Larsen was our chapter's oldest volunteer. In honor of her long commitment to the Red Cross, I thought we'd share a little bit about her life as seen in the McMinnville News-Register.
Margaret Larsen was born January 27, 1913 in Chilliwack, British Columbia. Margaret spent much of her life volunteering and giving to others. In 1966 she founded the Mid-Valley Rehabilitation Inc., which provides vocational and residential programs for the disabled in Yamhill, Polk and Marion counties. She was a member of the American Red Cross disaster response team for many years, making her last cross country trek to the Pentagon in 2001 for the 9-11 disaster. She cooked at the St. Barnabas Soup Kitchen, volunteered as a Fund Raiser for local Hospice, helped children read in the SMART Program and until a few months ago worked at the City Outreach Ministries. In her "spare" time she loved to garden. Margaret died at home on January 24, 2010 at the young age of 97.
Thank you, Margaret, for a lifetime of support to the American Red Cross. You will be missed.