Youth – You have been challenged!
To donate blood!
High school and College students play a critical role in maintaining the blood supply for the Pacific Northwest. Nearly 20% of the regions blood donations are from individuals 24 years old and younger that donate at their school's blood drives. These are the future blood donors.
The 2010 High School Blood Drive Challenge is now up and running, lasting til June 4th. The schools with the highest percentage of blood donation within each division will take the honor of wining the traveling trophy to keep in their school for one year. Plus the winning school will get a pizza party for all those who presented to donate blood or volunteer during the competition. You can check when your school blood drive is happening and see the competition standings online.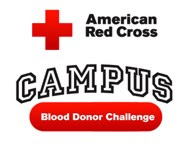 College students/alumni have a challenge as well! A new American Red Cross Blood Donors Facebook application was launched this morning, called the 'Campus Blood Donor Challenge'. It lets you show support for your school by registering donations with a national database, letting you see how your school is matching up with the Facebook competition out there!
Are you a student with questions or looking to show support and get your friends to donate? The new American Red Cross Blood website has a entire student section devoted to student concerns and needs!