"Double Down" Looks Deliciously Dangerous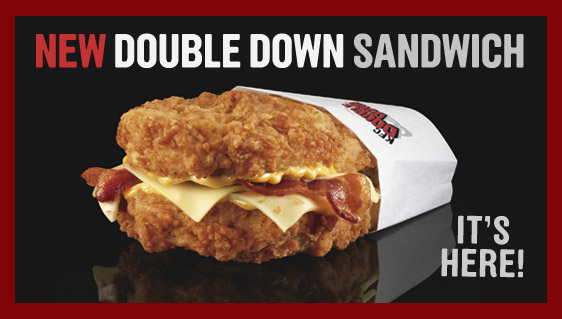 When biting into a sandwich, do you ever think, "As an avid carnivore, why am I hiding this tasty bacon between slices of low-calorie, unfried, unfun bread?" If you think it's time to cut out buns and get straight to the "meat" of a meal, KFC has finally answered your call!
This week, KFC took fast food to the cardiac extreme. Their newest sandwich, an artery-clogging adventure called the Double Down, is a fearless combination of: two deep-fried chicken filets, two pieces of bacon, two slices of Monterey Jack AND pepper jack cheese and of course…KFC's signature Colonel's Sauce.
KFC lists the sandwich's calorie count at 540, but others estimate it as much higher. According to The Daily Mail, it more accurately weighs in at 1,228 calories. To put that number in perspective, you could pig out on more than six Krispy Kreme doughnuts and still break even on calorie count!
Basically, eating a Double Down is like playing roulette with your heart. Now, the Red Cross would never pretend that a great bacon burger (bun or no bun) doesn't hit the spot sometimes. In fact, we'll even be representing at Portland's second annual Baconfest. No, we just want to advocate "eating with a game plan," you might say.
So when your friends and you consume the Double Down and risk a cardiovascular apocalypse, please make sure you've taken CPR and AED training! Your body, your buddies and yes, even KFC, will thank you.
Photo courtesy of kfc.com