Get a Scoop, Help a Firefighter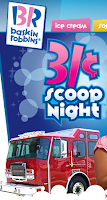 Reminder: tonight is 31 Cent Scoop Night! Why do we care? Because we love firefighters.
They call us (an average of ten times a week in Oregon!) after house fires when families have lost nearly everything. We help the families with food, shelter, and clothing. But we also help the firefighters when they're on a long, hard job and need food and water to keep going.
We also love ice cream. (Who doesn't, right?)