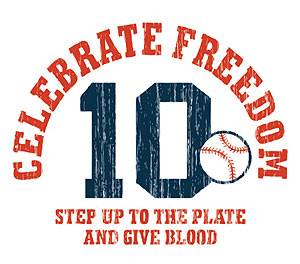 Do you like free pie, free t-shirts, free entertainment and discount coupons to see Portland Beavers baseball?
The Portland Red Cross, with our history of pie-themed events, will host the annual Celebrate Freedom blood drive on Saturday, July 3, 2010 from 7:30 a.m. to 1 p.m. at the Red Cross Portland Donor Center, 3131 N. Vancouver Avenue. The Celebrate Freedom event helps give an important boost to blood collections during the summer.
This year the Celebrate Freedom blood drive will include entertainment and family fun with the Rose City Clowns. All presenting blood and platelet donors will receive a free apple pie from Sharis Restaurants, a free Celebrate Freedom blood drive t-shirt, and a discount coupon to see the Portland Beavers home game on July 5th or 6th (for all participants while supply lasts.)
Celebrate Freedom is one of the most popular blood drives of the year and appointments are strongly advised. The Red Cross wants this event to be enjoyable for everyone and to provide you with excellent service. Please call 1-800-RED CROSS to reserve your appointment time.