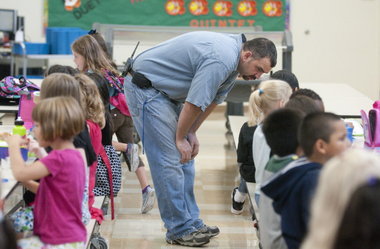 Did you see the story about the Hillsboro custodian who has saved the lives of not one, but TWO, choking students? Here's a snippet from the article:
[Head custodian Mike] Borreggine calmly walked up to Shawn [
Jett]
and told him to nod his head if he was choking. The boy, beginning to panic, nodded. Borreggine kneeled behind him and performed an abdominal thrust. The chicken nugget landed on the table to a collective "ewww" from the other students.
About eight months after the nugget incident, the custodian, already established in Quatama lore as a hero, was following his cafeteria routine of opening difficult cartons of milk, wiping tables and reminding kids how much time remained for lunch when Alberto Felix came up to him clasping his throat. "I was eating pancakes and then I started choking and I tried drinking some juice and it wouldn't go down and I walked up to Mr. Mike and told him I was choking and I could barely talk," Alberto said. Alberto needed three thrusts to dislodge the pancake.
"The first time's a fluke," Borreggine said. "The second time …. I would never have expected that. It makes you realize the difference you do make."