All Aboard The SS Huckleberry!
We've often said
that the same principles that would help you survive after a disaster would keep you safe in case of zombie (
or alien
!) attack.
So it stands to reason that a zombie "safe house" would work well for post-disaster living.
That's why I'll be ready to move in to the SS Huckleberry, even though it necessitates leaving Oregon for a home on the Mighty Mississippi.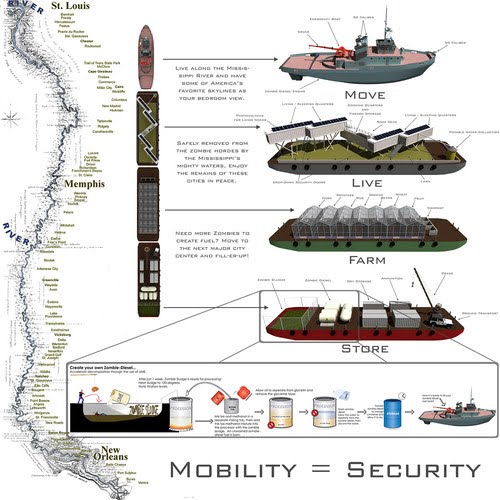 From solar panels to a full-scale farm, you'll have power and plenty of room to eat, sleep, play and recycle zombies into fuel. There are no specifics on how many people the Huckleberry can hold, but I'm pretty sure it you can bring along more than a few of your friends.
Clearly, living aboard the Huckleberry will help you survive far longer than 72 hours, but that's really all you need to get started. Pull together your disaster kit…I promise I'll let you stow it on the ship, if needed.