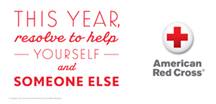 Help Oregon Red Cross Help Our Community Through the Willamette Week Give!Guide


Oregon Red Cross is proud to be featured in the 2011 Willamette Week Give!Guide, which raised more than $1 million for local nonprofits last year. Like most Americans over the last few years, we have had to tighten our belts and work smarter while responding to a seemingly ever increasing number of disasters right here in Oregon.
We now have only 47 full time staff in humanitarian services to cover almost 100,000 square miles in the state of Oregon. But when disaster strikes, our organization wants to be ready to respond to floods, winter storms and the 2:00 A.M. call to assist a family affected by a home fire. When you click on Oregon Red Cross in the 'Community' section of the Give!Guide, you'll be glad to know that 100% of your donation goes directly to help victims of disasters.
People affected by disaster need to know that they have a place to stay, food to eat and emotional support from someone who cares as they take the first steps to recovery. This is our commitment to the people of Oregon and with your help and support we will always honor that commitment.
The American Red Cross is not a government agency. We rely solely on tax deductible financial donations to support our disaster response and humanitarian relief efforts. And because it's nice to do well when you do good, you'll be even more delighted to know that you can receive wonderful thank you gifts from Oregon Red Cross, Papa Murphy's and Willamette Week:
Our partner Papa Murphy will give you a free pizza with your $25 gift.
Oregon Red Cross is offering our own incentive for those who make a gift through the Give!Guide. Donate $50 or more to us by midnight on December 31 and be entered into our drawing for a four-person emergency kit worth $165!
Finally, Willamette Week offers:
$10-$499 You get coupons good for discounts and freebies all over town. There is one level for donors between $10 and $99, another for $100 to $499. Larger gifts result in better deals. See the

Give!Guide website

for details.


$500-$999 You get home delivery of a bottle of wine from A to Z Wineworks, a nice bag of Stumptown Coffee, Widmer Beer, a Chinook Book app, and more.

$1,000-$2,499 You get home delivery of pinot noir from Rex Hill Vineyards, the Chinook Book app, a package of Bob's Red Mill Honey Oats Granola, Stumptown Coffee, Widmer Beer, and more.

$2,500 You get home delivery from one of Willamette Week's owners of a bottle of sparkling wine, Rex Hill pinot noir wine, Moonstruck Chocolates, Stam dog treats, Bob's Red Mill Steel Cut Oats, and more, including the Chinook Book app.