We're looking for heroes!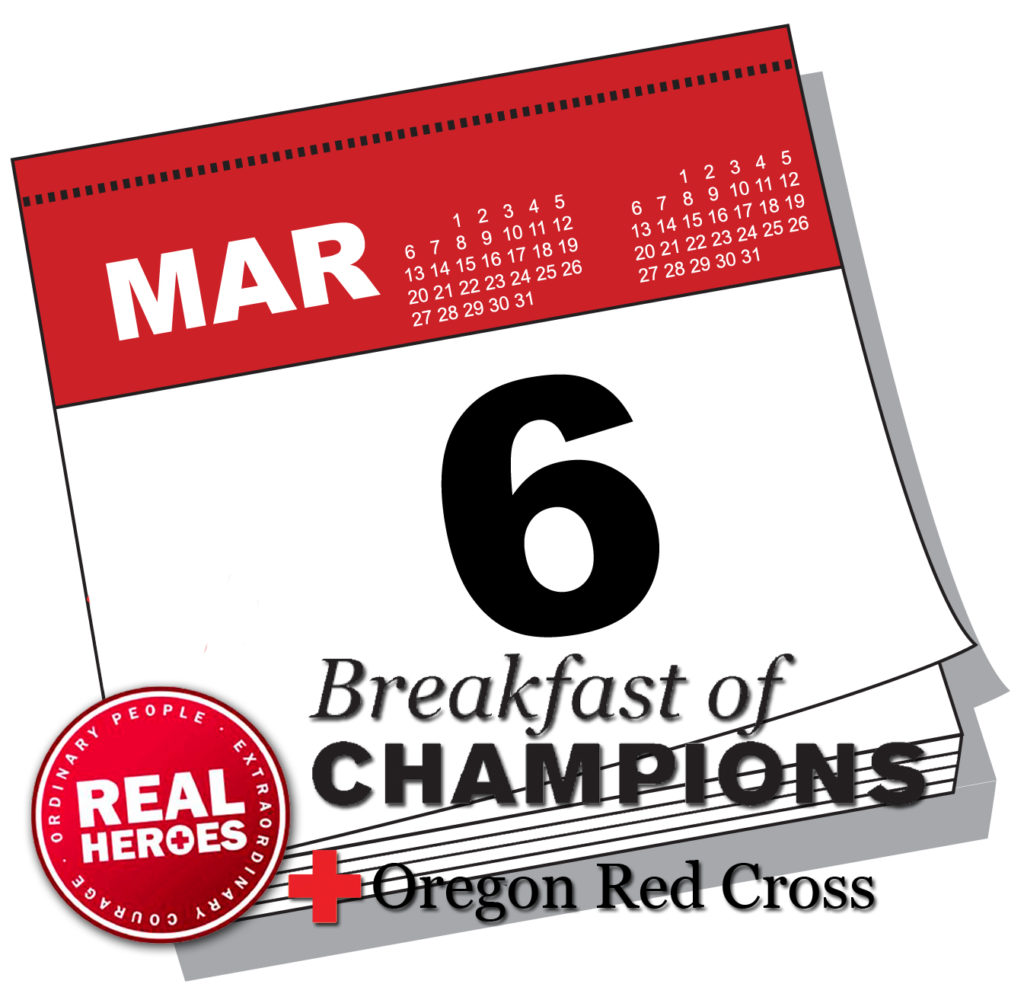 Every year, the Oregon Red Cross honors extraordinary acts of courage, humanity, unselfishness, and commitment to our communities at our annual Breakfast of Champions, being held this year on Tuesday, March 6th at the Oregon Convention Center.
We're looking for hero nominations from across the 16 counties of northern Oregon, including Baker, Clackamas, Clatsop, Columbia, Hood River, Gilliam, Morrow, Multnomah, Sherman, Tillamook, Umatilla, Union, Wallowa, Wasco, Washington or Yamhill counties. Our heroes, once nominated, are selected based on how their unselfish and/ or heroic acts have helped: Save a life; Have positively impacted lives; Inspired the community, or; Have exemplified the Red Cross mission to help people prevent, prepare for and respond to disasters and emergencies.
Once we receive the hero nominations from across the 16 counties, we'll sit down with a select group of volunteers, sponsors and community leaders to choose a special handful of deserving winners. At past Breakfast of Champions, awards have been presented to children, adults, groups, organizations, businesses and even animals.
Examples of past heroic acts include: Performing first aid or CPR to save a life; Helping others escape a house fire, car accident or other life-threatening situation; Performing a water or wilderness rescue; A professional rescue that went above and beyond the line of duty or occurred when the rescuer was not working; An ongoing commitment to a cause that has positively impacted residents in our community; helping people be safe, save lives and/or provide improved quality of life; An individual or group that champions safety, disaster preparedness and disaster response in the community, and; An animal that has been involved in a rescue or has provided therapy/emotional support.
Ideally, the heroic act occurred within the past year, unless the nomination is for an ongoing commitment to saving and rebuilding lives. We hope our heroes will reflect the diversity of Oregon. Nominees of all backgrounds are encouraged!
We'd like to have nominations in the next couple of weeks – December 8th – and you can contact James Roddey at (503) 538-5629 with nomination and questions or go to our website (below).
The Oregon Red Cross Breakfast of Champions Hero Awards – Tuesday, March 6th at the Oregon Convention Center. Help us honor the heroes that walk among us every day!