UO Ducks Win the Civil War Blood Drive Competition
Final Civil War Blood Drive Score: Ducks 3,416 – Beavers 3,173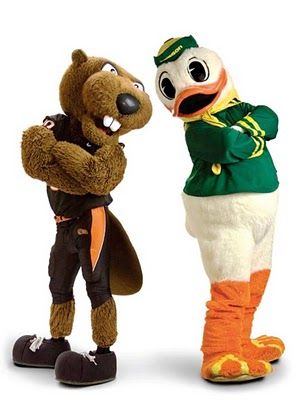 The ten-year anniversary of the Civil War Blood Drive was a fierce competition this year and the numbers show how close the pursuit was to capture the annual trophy and bragging rights. The final numbers show that the University of Oregon Ducks prevailed with a 243 point difference. The Ducks had 3,416 blood drive ballots cast, the Oregon State University Beavers came in very close with 3,173 ballots entered.
For the second year in a row, the Ducks have been victorious in the Civil War Blood Drive. To view the full history of the blood drive campaign, visit civilwarblooddrive.com. The need for blood is constant; and it is especially important to have an ample supply during the winter season. For those wanting to help hospital patients by donating blood, please call 1-800-RED CROSS or visit redcrossblood.org to schedule your appointment. If you would like to make an appointment to donate platelets at the Clark County, Portland, or the Richland, Washington donor centers, please call 1-800-787-9691.
It is important to remember that the real winners of this healthy competition are hospital patients who are in need of blood and platelet transfusions throughout the year. Many people helped to facilitate making our ten-year Civil War Blood Drive anniversary a success. To all those who partnered, created, volunteered, promoted, supported, collected or gave blood and platelets, we are exceedingly thankful for your support.