Red Cross responds to McMinnville Apartment Fire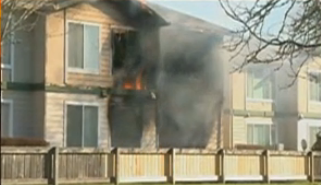 Oregon Red Cross volunteers responded to an apartment fire on Sesame Street in McMinnville, OR. They provided humanitarian assistance to 15 people displaced by the fire. All services were provided free of charge and may have included comfort kits, lodging, food, clothing and mental health services.

As reported by KWG news, two young children, a 5-year-old girl and a 6-year-old boy, were home alone when a fire started in a McMinnville apartment and spread to three other units Friday morning, authorities said. A neighbor pulled the girl to safety from the burning apartment.
Emergency crews were called just before 11 a.m. on Friday to a report of a fire in the 1700 block of Sesame Street. A blanket had caught on fire and the flames quickly spread through the apartment, according to the McMinnville Fire Department. Neighbor Tonya Wright said by the time she got downstairs the boy had already jumped out of a bedroom window. But his 5-year-old sister was still trying to get out.

"She was standing there and I just grabbed her by the arm and pulled her out," Wright told KGW. Investigators said one of the children or a dog inside the apartment started the fire by knocking over a candle. That unit and a nearby apartment were heavily damaged.
Two other units were also damaged. There were no reports of injuries. A total of 15 tenants were displaced by the fire and Red Cross was assisting at the scene.