Blaze sparks at SE Portland apartment complex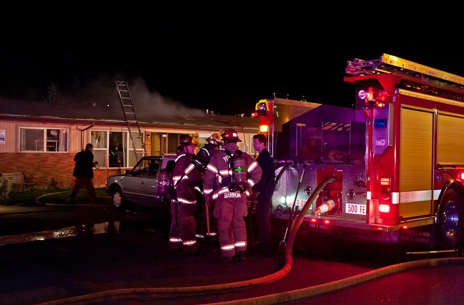 Oregon Red Cross volunteers are assisting several SE Portland residents displaced by an apartment fire in the 2000 block of SE 122nd Avenue. Red Cross volunteers are prepared to provide humanitarian assistance, which is provided free of charge, and may include comfort kits, lodging, food, clothing and information about health and mental health services.

As reported by KOIN Local 6, investigators believe the two-alarm fire at a Southeast Portland apartment complex on Saturday night was caused by a careless smoker. The blaze broke out sometime before 7:39 p.m. at the El Moro Apartments, located at 2016 SE 122nd Avenue.

Alisa Cour, spokesperson for Portland Fire and Rescue, says the fire initially started in a one-story unit, but arriving crews discovered that strong east winds had spread it to three others through a common attic space, prompting the second-alarm.

Firefighters cut a hole in the roof of all four one-story units, which had all been safely evacuated prior to their arrival. The fire was brought under control within about 40 minutes.

There were no injuries, but an elderly woman was treated at the scene for smoke inhalation. The Red Cross is assisting displaced residents with housing. TriMet also sent a bus to the scene to help residents stay warm.