Do you need an aircraft carrier to be prepared?
One of the core fundamentals of the American Red Cross is disaster preparedness, and earlier this week the state of Wyoming showed quite the initiative in being prepared for 'anything'.

Wyoming House Bill 85 would have allocated $16,000 for a panel of legislators and emergency managers to study various measures, including a new state-issued currency, for handling a range of doomsday scenarios. Wyoming's Department of Homeland Security already has a statewide crisis management plan, but it does not include the so-called doomsday scenario. To add some humor, and introduce a 'poison pill', some legislators tried to introduce an amendment that mockingly asked whether Wyoming should purchase its own aircraft carrier and fighter jets (Wyoming is land-locked). Unlike most states that are in financial strife, Wyoming has $14 billion in savings and assets.
Wyoming Governor Matt Mead laughed off the idea of being the only governor to command his own aircraft carrier saying, "If we got an aircraft carrier, we'll need a bigger lake." The largest body of water currently in Wyoming is Lake Yellowstone which is deep enough to hold the largest Nimitz-class aircraft carrier. I thought it would be entertaining to visualize an aircraft carrier in a small lake…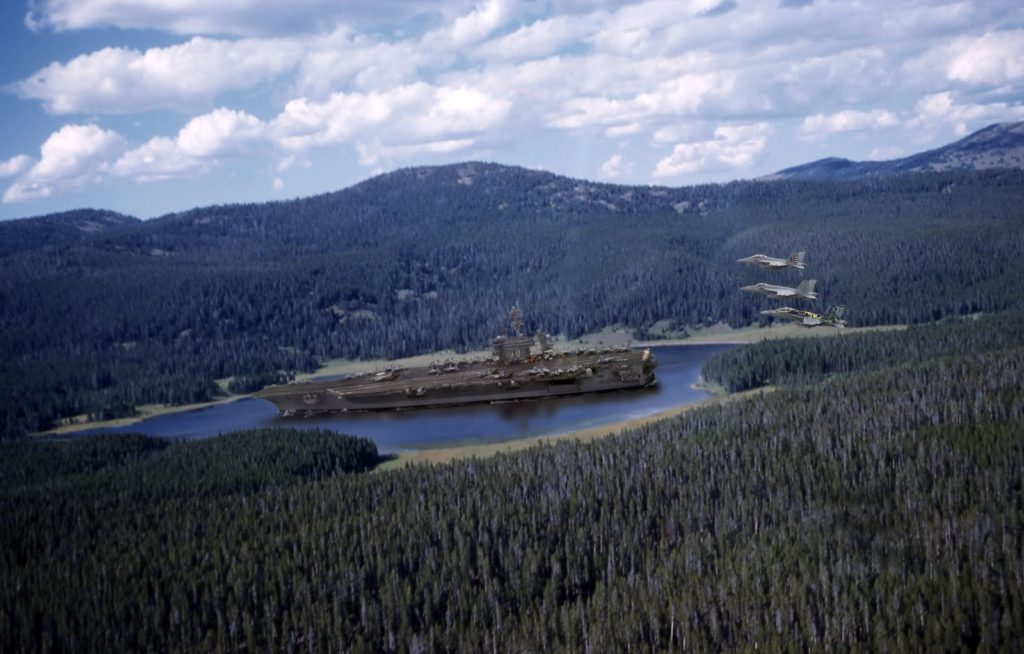 However, the big natural disaster Wyoming potentially faces is the Yellowstone Supervolcano exploding… which is located directly under Lake Yellowstone (in recent years the geology under the lake has started to rise significantly). Who says you need to put an aircraft carrier in water? You could always airlift one and place it at a high, out of reach location such as Devil's Tower…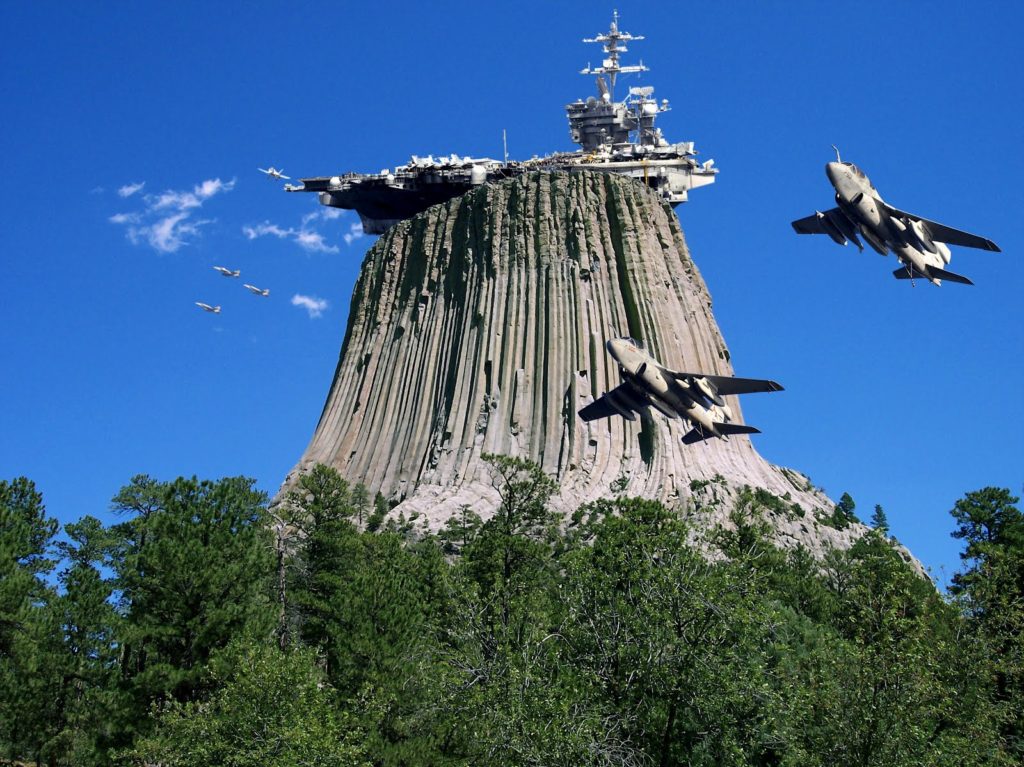 Unfortunately, House Bill 85 was narrowly rejected 30-27 in a final House vote. Maybe they watched the short-lived TV series Jericho, that featured the aftermath of nuclear attacks on the US with Wyoming taking over (SPOILER ALERT: …after a Wyoming contractor examined similar 'what-if' scenarios and decided that instigating nuclear attacks would be good business sense).
OK – so an aircraft carrier might not make sense for Wyoming, but Oregon has considered one for disaster preparedness…