Red Cross Launches Huge Tornado Relief Response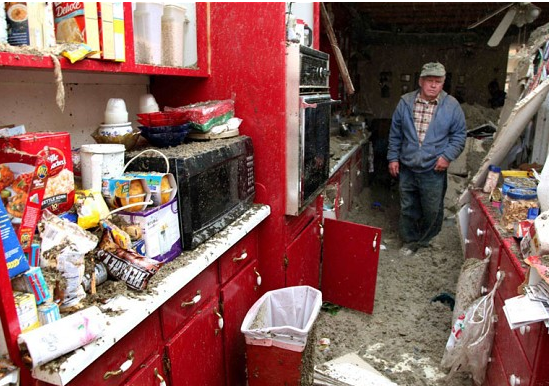 The
American Red Cross
has launched a large relief operation across 11 states to help people affected by yesterday's devastating tornado outbreak in the South and Midwest. Weather experts reported as many as 95 confirmed tornadoes touched down, destroying communities from the Great Lakes to the Southeast.
"Our hearts go out to everyone who has been affected by this week's severe storms," said Charley Shimanski, senior vice president, Disaster Services. "Our top priorities right now are making sure people have a safe place to stay, a warm meal and a shoulder to lean on as they begin to clean up their neighborhoods. The Red Cross is also working closely with our government and community partners to make sure everyone gets the help they need."
Friday night, the Red Cross opened or supported 22 shelters in Missouri, Illinois, Kentucky, Oklahoma, North Carolina, Alabama, Indiana, Ohio, Tennessee, Virginia and West Virginia. Across the affected states, trained Red Cross disaster workers are mobilizing to begin feeding operations and distribution of relief supplies. Red Cross health services and mental health workers also will be out in neighborhoods help people cope with what they've seen and experienced. And damage assessment teams will also help the Red Cross and our partners discover the full scope of the damage.
If someone would like to
help
people affected by disasters like tornadoes and floods, they can make a donation to support American Red Cross Disaster Relief by visiting www.redcross.org, calling 1-800-RED CROSS (1-800-733-2767) or texting the word REDCROSS to 90999 to make a $10 donation. Contributions may also be sent to their
local Red Cross chapter
or to the American Red Cross, P.O. Box 37243, Washington, DC 20013.
Those affected can let loved ones know they are safe by registering on the secure Red Cross Safe and Well website, where they can also update their Facebook and Twitter status. If you don't have computer access, you can also register by calling 1-800-RED CROSS (1-800-733-2767). Loved ones outside the disaster area can use Safe and Well to find information about loved ones in the affected areas by using a pre-disaster phone number or complete address.