Please Join Us at the 2012 Fred Meyer Breakfast of Champions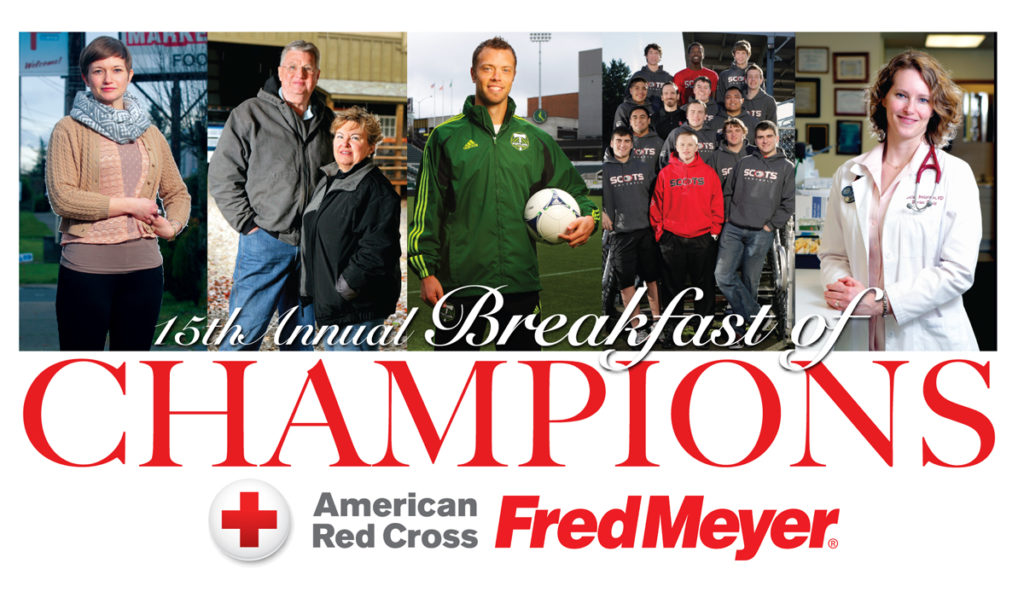 March is 'Red Cross Month' and the Oregon Red Cross will be honoring local heroes who have displayed courage and compassion at our March 6th Fred Meyer Breakfast of Champions.
"This is our largest charitable event of the year," said Maree Wacker, Regional Executive of the Oregon Red Cross. "We celebrate the mission of the American Red Cross; the idea that we can all be a part of something bigger than ourselves. We also honor hometown heroes and we put together an amazing interactive experience for everyone that attends."
When a massive EF 5 tornado tore through Joplin, Missouri on May 22nd, it completely destroyed over 7,000 homes and left damage to 75% of this city of 50,000 (the same size as Corvallis).
Joplin native Jack Jewsbury, the Portland Timbers all-star midfielder, heard from his father that his family members were safe, but his hometown had suffered catastrophic damage.
Jewsbury, the Timbers and their legion of fans raised thousands of dollars for the American Red Cross disaster relief effort, which helped send over 800 Red Cross workers to Joplin; they, in turn, helped families hit by the tornado get back on their feet.
DeOna Bridgeman of Canby witnessed a teenage boy being struck by a truck and trailer. She rushed to the boy's aid and saved his life by performing citizen CPR until paramedics arrived.
When a rare, but incredibly damaging tornado struck Aumsville in December 2010, Dean and Marcia Howell, and their family, mobilized to respond to the immediate needs of their community.
Chelsea Carpenter used her CPR training to aid a woman who had collapsed in a parking lot. After EMTs arrived, she offered assistance and emotional support to the woman's daughter.
The David Douglas High School football team responded to a call for blood donations during their summer break by bringing their entire team into the Portland Blood Donation Center.
The Oregon Red Cross will be honoring these and other amazing local heroes who have displayed courage and compassion at the Fred Meyer Breakfast of Champions on March 6th in the Oregon Convention Center.
"The heroes we honor are unselfish, caring individuals who stepped up to help, heal, and comfort, sometimes in someone's most desperate hour. And that's what this event is all about — celebrating those who would put aside their own needs to come to the aid of others," said Wacker.
Please join us at the 2012 Fred Meyer Breakfast of Champions. Contact Tracy Madsen at 503-528-5692 for information regarding attending this charitable event.