Sisters High School Students Win Statewide Safety Video Contest!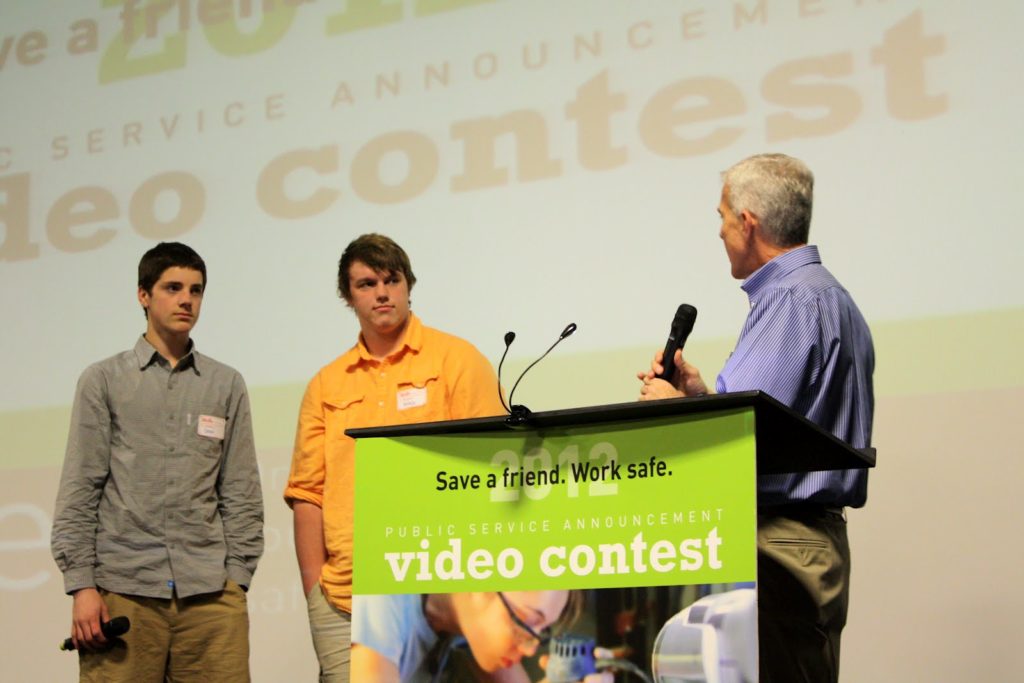 From Oregon OSHA:

Sisters High School students win statewide safety video contest!
Three other teams also earn prizes

Salem — Two students from Sisters High School took home first-place honors and $500 for their public service announcement promoting young worker safety and health. Drew Corrigan and Mitch Keranen created the 45-second video "The Importance of Ear Protection." The PSA features the return of "Safety Man," who intervenes in time to stop a young worker from damaging his hearing. Sisters High School also won a matching amount of prize money.
"We just love making videos that make each other laugh," said Corrigan. "It was a surprise to win. The contest has really opened my eyes (and ears) to the hazards teen face in the workplace. It was a great learning experience."

Corrigan took second place in the 2011 contest when he debuted his character "Safety Man."
The other winners are as follows:

Second place ($400):
Austin Coburn and Jonah Netland
Salem Academy, Salem
"The Safety Police"
Third place – tie ($300):
Donald Sage and Carly Hamer
Springfield High School, Springfield
"Better to be Safe Than Sorry"
Michael Norris, Trent Bennett, Lauren Nollette, Nathan Reed, Mellanie Boeckel, Garrett Tolman, and Kori Cox
St. Helens High School, St. Helens
"Building Construction"
The creators of the top videos were presented their awards Saturday during a special screening at the Northern Lights Theatre in Salem. The contest was designed to increase awareness about safety for young people, with the theme of "Save a Friend. Work Safe." Students were asked to create a video with a teen job safety and health message using the concept of "Speak Up!" as the main focus of the video. The videos were judged on creativity, production value, youth appeal, and the overall safety and health message. All of the winning videos, as well as the other finalists, are available for viewing at http://www.youtube.com/user/OregonSafetyHealth.
The contest is organized by the Oregon Young Employee Safety Coalition (O[yes]). Oregon OSHA, SAIF Corporation, local chapters of the American Society of Safety Engineers, the Center for Research on Occupational and Environmental Toxicology (CROET), Liberty Northwest, Hoffman Construction, and the Greater Portland Construction Partnership sponsor the contest.