Students "drop, cover and hold on" during the Great Oregon ShakeOut
Disaster Dog, the Red Cross's
number one earthquake preparedness volunteer, made his way to Cascade Heights
Charter School during the week of October 15th for the Great Oregon
ShakeOut. The Great ShakeOut is one of Disaster Dog's favorite events of
the year, because on October 18 at 10:18 a.m. thousands of Oregonians drop,
cover and hold on at the same time to become better prepared for an earthquake.

A few days before the Great
ShakeOut, Disaster Dog prepared Cascade Heights Charter School by giving an
ALERT presentation to all the K-8th graders. During
this presentation, Disaster Dog informed the students on the importance of
building a disaster kit and how to remain safe during an earthquake. Later in
the week when Great ShakeOut day arrived, the students were able to
practice
what Disaster Dog taught them.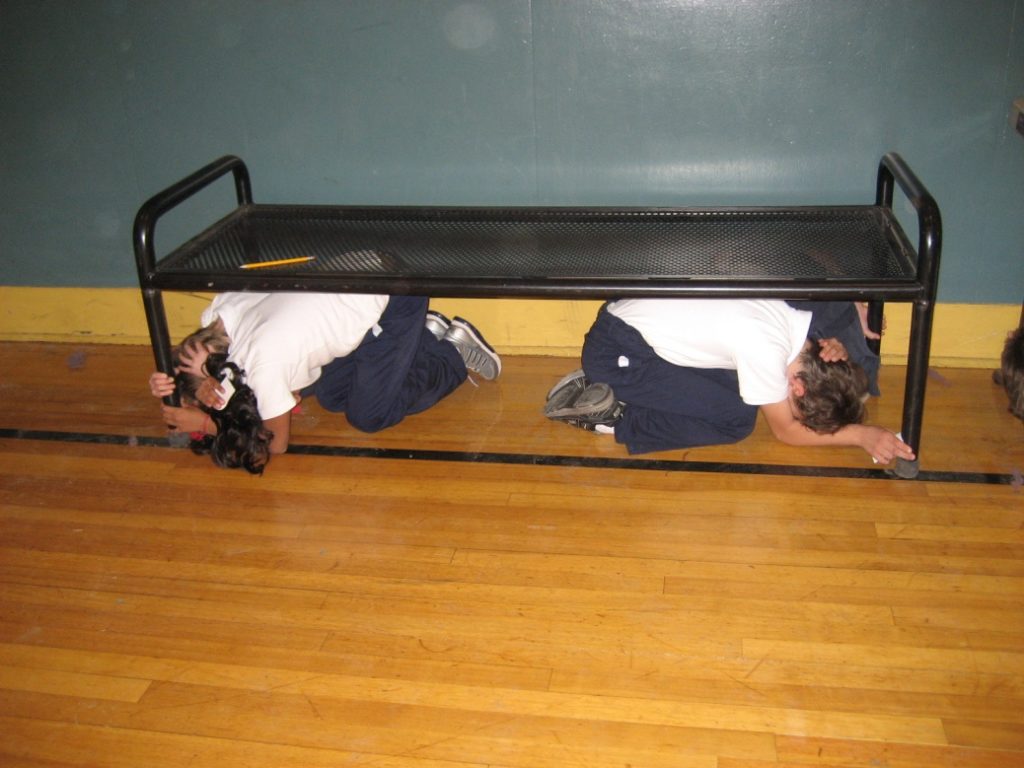 During that evening, Cascade
Heights Charter School hosted the community Harvest Festival for the students,
families, and local community members. The Red Cross, along with Disaster Dog,
were present during the Harvest Festival to share information with more than 250 people about
getting prepared and building a disaster kit.
Disaster Dog understands practice
makes perfect and admires the students of Cascade Heights Charter School, along
with everyone else who participated in the Great Oregon ShakeOut. He also wants
to invite his other preparedness friends, Cool Cat and Ready Rabbit, to help
prepare Oregon for disasters such as fires and winter storms.
If you are interested in having
Disaster Dog, Cool Cat, or Ready Rabbit present to your K-5th
graders, please contact Youth Preparedness Coordinator Karly Workman (
karlynn.workman@redcross.org
) 503-528-5992.