AmeriCorps Spotlight: Karly Workman
Each year during AmeriCorps Week, the Oregon Red Cross recognizes the commitment of AmeriCorps members by highlighting the extraordinary impact these individuals make in our communities. AmeriCorps members have played, and continue to play, a major role in driving the Red Cross mission forward. To highlight their work, we've asked two of our members to share their experiences. First off is a message from our very own Youth Preparedness Coordinator Karly Workman.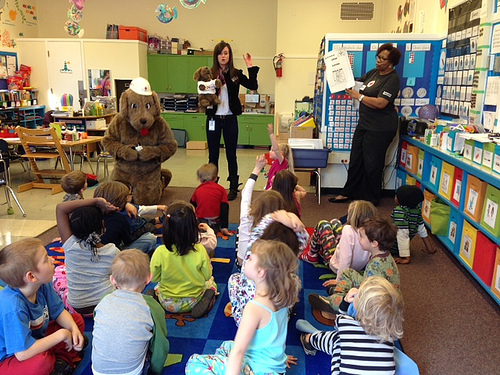 Karly and Disaster Dog teach an Irvington Elementary School kindergarten

class about earthquake safety.
I have always had an interest in AmeriCorps after serving two, three month summer terms back in Colorado. However, my AmeriCorps experience in Colorado was extremely different than my AmeriCorps experience today. The two terms I served in Colorado consisted of camping for ten days in the Rocky Mountains, building trails and fences, and cutting down pine beetle infected trees. Currently, I am serving as a Youth Preparedness Coordinator at the Red Cross Oregon Trail Chapter. In my past AmeriCorps term I was used to spending 10 days disconnected to the rest of the world, without using any piece of technology. Now, I currently find myself unable to do any work without my computer and cell phone. Instead of building trails and fences, I am building high school Red Cross clubs. And instead of cutting down trees, I am cutting down the number of unprepared Oregonians.
At the end of the fiscal year, the preparedness team at the Red Cross aims to prepare 25,000 Oregonians. In order to achieve this ambitious goal, I give ALERT (Awareness Learning and Emergency Response Training)presentations to elementary schools around Portland. There are three different ALERT presentations, Disaster Dog (earthquake safety), Cool Cat (fire safety), and Ready Rabbit (winter safety), which prepare students and encourage them to practice preparedness with their families.
I have always enjoyed working with little kids, and I find it incredibly rewarding when the kids are able to tell me something they didn't know before the presentation. For some of the classes, I am able to go back three times, and give them all three of the presentations. I am amazed that the children are always able to remember me from the previous presentation, which is sometimes weeks in the past, and tell me exactly what they learned. Some of the students are even very excited to tell me about how they practiced preparedness with their parents and family at home.
On top of giving ALERT presentations, I manage the high school Red Cross clubs. One of the main activities of the high school Red Cross clubs is having a Preparedness Week. Preparedness Week aims to prepare every student and staff member at that school. Preparedness Week allows the club members to be creative and innovative, while emphasizing the importance of preparedness.
Even though I am not living in the forest and cutting down trees, I have found this AmeriCorps experience to be most rewarding and impactful. I am constantly learning something new, building my personal and professional skills, and reaching communities and students through the message of preparedness.