Volunteer profile: Carol Gross – Mental Health Volunteer
Our Volunteer Profile series offers a weekly glimpse at some of the amazing volunteers who help drive the American Red Cross mission forward. With nearly 1,200 in the state, these volunteers serve as the backbone of our organization, and we could not exist without their compassion and commitment. This series is written by our communications volunteer, Patrick Wilson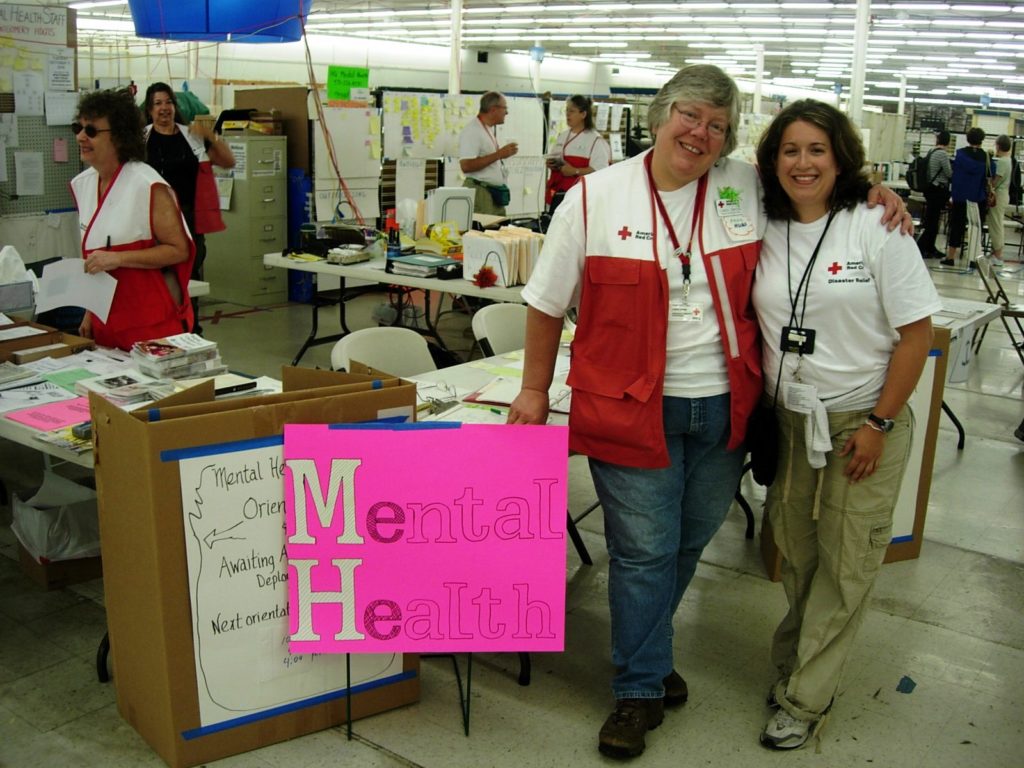 Carol Gross (standing next to the sign in her Red Cross vest) at the Red Cross headquarters in Montgomery.
Volunteering the past several years at the Red Cross has been demanding yet exciting for Carol Gross. Carol is a mental health volunteer who frequently supports disaster recovery operations. She's been deployed on Hurricane Katrina, the Clackamas Town Center shooting, Hurricane Sandy, and the Boston Marathon explosions to name just a few. Her role is to assist victims but also to support the Red Cross staff and volunteers who are deployed. In many ways the latter is more important. While disasters are devastating for victims struggling to regain balance, relief workers have to deal with continuous demands which can have a debilitating effect. They need to be a resource for each new victim and can't afford to be ill prepared to help those suffering from overwhelming turmoil.
Carol's first major deployment was Hurricane Katrina which engaged over 250,000 volunteers and called for more than 11,000 mental health workers. During the first part of her deployment, Carol worked in rural Alabama with about 75 other volunteers. She had direct interaction with hurricane survivors. While demanding, she found the work rewarding and liked the experience. It was an eye-opener for her, given the extent of the destruction and the magnitude of the relief effort. She remembers in particular, one man she met. He arrived at the Red Cross Service Center with only his wallet and the clothes on his back. He had nothing else in the world. His story included a description of him watching his best friend being swept to his death in the Gulf. Carol, like many relief workers, was deeply impacted by these kinds of stories. Her Katrina experience convinced her this was work she wanted to pursue.
During the latter part of her deployment she moved to the Disaster Relief Headquarters in Montgomery, Alabama, located in an empty Kmart warehouse. The weather and living conditions were close to intolerable. While many of the volunteers were not enthusiastic about being assigned to the Headquarters, she found it to be a very positive experience. She developed a deep appreciation for the demands and rigors placed on volunteers. Many of the workers had been there for weeks and were exhausted. The situation and requirements changed quickly and dramatically. Working on a disaster site demanded so much more than daily home life and often allowed far less sleep.
About this time Carol's role in disaster mental health (DMH) shifted. Volunteers, many of whom had been through life-altering experiences were preparing to depart. Carol and her peers helped prepare these relief workers for a much quieter and less suspenseful existence. This represented a huge shift. No more dealing with traumatized people, many of whom were struggling to just make it from day-to-day. The volunteers would now face a world that would not understand the drama of their experience. They would need to find people who could provide a realistic sounding board as they unwound from their own trauma. Carol and her DMH colleagues provided information and support to assist in the transformation from the often-intense disaster relief response to the more mundane life back home.
Volunteers thinking of signing on for disaster relief need to think carefully about the demands they will likely face. While a support system can be found to help deal with their residual emotions, volunteers need to ensure they are built for these kind of experiences. Carol thrives in these settings.
Carol has been on 16 deployments since 2005. And she reminds other volunteers this kind of challenge is not for everybody. Carefully consider your physical and psychological capabilities. The work can be far more demanding than your back-home routine. Support is available but you need to know what kind of support you need and who can best provide it.
If you need to contact Carol Gross, you can reach her at 503 641 3731(h)/503 997 4137(c) or via e-mail at
Carol.Gross@redcross.org