Volunteer Profile: Kirsten Barnes manages all things Red Cross in the mid-valley
Our
Volunteer Profile series offers a weekly glimpse at some of the amazing volunteers
who help drive the American Red Cross mission forward. With nearly 2,000 in the
state, these volunteers serve as the backbone of our organization, and we could
not exist without their compassion and commitment. Volunteer profiles are
written by our communications volunteer, Patrick Wilson
Kirsten
Barnes joined the Willamette Chapter of the American Red Cross in 2010 when she
learned that the church she attended was going to serve as a Red Cross shelter
site. She wanted to support people during times of significant need and help
ensure that the necessary resources were available. As a social studies teacher
at Silverton High School with time available in the summer months, Kirsten is
able to spen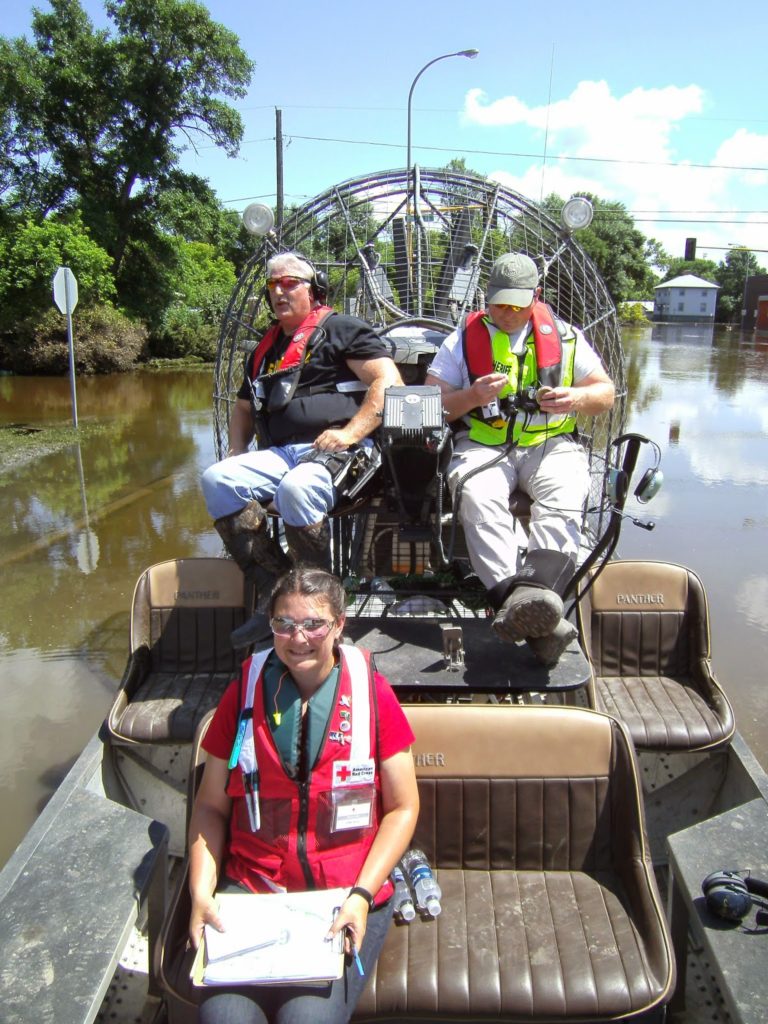 d significant time working to support her chapter. She has been
impressed by the opportunities and support accessible to
volunteers, as well the preparation available for the jobs she has accepted.
She sees her work with the Red Cross as allowing her to continually learn and
grow. Since joining, Kirsten has been a Disaster Action Team (DAT) member, Training
Coordinator for the Mid-Valley area, and the Disaster Academy co-coordinator
with Dianne Mekkers for the past two years. In the latter role her work has
touched several hundred Red Cross volunteers, enabling them to grow and fine-tune
their disaster and survival skills. Kirsten has also been the Cascade Region
Disaster Assessment Lead, heavily involved in disaster assessment and response
for local and national teams, particularly during the 2013 summer wildfires.

"When I volunteered I never thought I
would be working on floods, wildfires and tornadoes in Oregon, let alone in other
states," says Kirsten. "My
training has given me opportunities to meet and work with people all over the
Cascades Region and the United States. Every disaster is different, but each
time the highly-capable responding teams determine unique ways to help those
affected."

A number of times
Kirsten has met with clients along with mental health supervisors seeking to
assist families struggling with the damage to their lives and homes. While
these meetings can be quite emotional, she feels good about being able to team
with her mental health partners to help families to develop a positive
orientation, and to start moving forward with personal recovery plans. Often
the damage to people's homes and
neighborhoods are extensive. This means that the disaster assessment teams must
work quickly and efficiently. In spite of the urgency, she never loses sight of
the fact that loss can be devastating for a family.
Kirsten
sees herself as being a fairly flexible person, and the Red Cross has stretched
her flexibilities even further. One such 'stretch-experience'

occurred during her
first deployment in June 2011 when she went to Minot, North Dakota, to do
assessment after the flooding. The group she was with faced
continuous flooding and repeated tornado warnings. They slept in a gymnasium
with 250 other Red Cross workers. Temperatures sometimes reached 90 degrees. In
addition, they were short of food on the first two days. "In spite of these
trying conditions, it was no big deal because we had a critical mission and
everybody there was on the same page,"

says Kirsten.
Kirsten
has found her work at the Red Cross very rewarding, particularly the demanding
and challenging capacity in which she has been able to serve. Just as important
has been the opportunity to meet so many wonderful and talented people.