Volunteer Profile: Donda King – Doing the right thing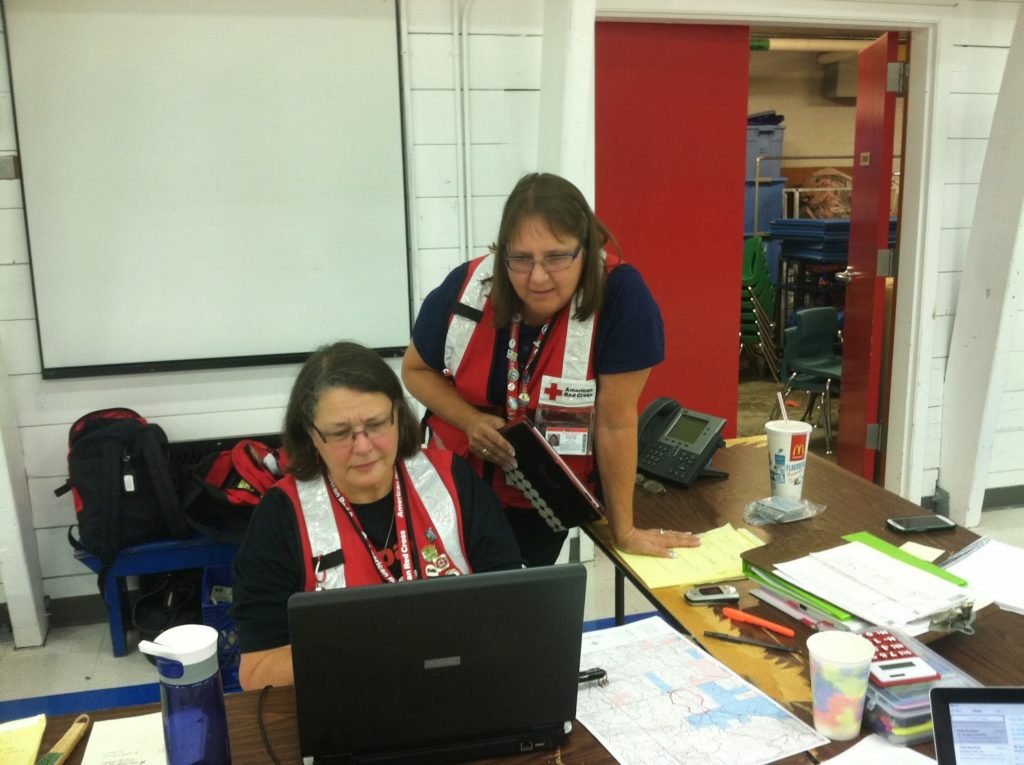 Donda King (right) and Ann Fenderson at Forest Grove shelter.
Donda King has been a Red Cross volunteer for more than
27 years yet she shows all the enthusiasm of a new volunteer just coming in the
door. She bubbles over with excitement and regard for the Red Cross
organization when you talk with her. She says she
"joined the chapter when it was pretty
much a remote outpost." She has had a lot to do with that outpost becoming a
large part the Oregon Pacific Chapter, based in Eugene. Donda began as a board
member and continued serving in that role for about seven years. This position
meant a lot to her since her grandfather had been the executive director in the
early 1940s. She became a DAT (Disaster Action Team) member almost immediately
and has remained a mainstay for the DAT organization, becoming a long-time member
of the DAT leadership team.
Donda says one of the things that really stand out for
her is the work she did during the 1996/97 flood in Oregon. She was a
lead volunteer for her small group
(three volunteers and one staff) that needed to rapidly increase in size. She
provided direction as the group grew to 14 people to accommodate the expansion
in demands resulting from major flooding in the area. She had responsibility
for feeding the disaster victims and operating several shelters. "As for the
shelter, training a large cadre of replacements and then turning all
responsibility over to others was a key part of my responsibility," Donda said.
One of the things she remembers most was the exhilaration of seeing the novice
team successfully begin operating the shelter after only a few days of
training.
Given Donda's
tenure, I was particularly interested in her thoughts about what drives a
successful DAT. Without pause, Donda said, "It's important to keep DAT members
involved in meaningful ways, to make certain people are engaged in making DAT
responses a success and that they feel that success." When she was asked what
was particularly difficult about managing DAT's successfully, she replied without
taking a breath. "Nothing is hard!" Donda says she personally likes the
reception received from first responders when her DAT pulls into a disaster
situation. "They love to see us roll in ready to help." She says the easiest
way to describe the mission of the DAT is "A group of people who are available
to serve any hour of the day or night, and who are charged with ensuring
disaster clients are alright or help to become alright again."
Donda currently serves as a team
leader and DAT Coordinator for Douglas County.
She has become a DST instructor for the Oregon Pacific Chapter as
well. This still leaves her time to work
full time and volunteer for the Umpqua Lions Club as first vice-president, and
Sight and Hearing Chair.
Donda credits Jules Stephens for much of her success. "Jules was a senior Red Cross
volunteer who I referred to as 'Mister Red Cross,'" says Donda. "He was my
mentor for much of my early tenure. He adopted me early on and eventually
received a Lifetime Award for his service. He often just seemed to show up and
would engage me in a tutorial about what was happening, what was needed, and
what role I should play. Having another more senior volunteer provide on-going
guidance really helps build success. I hope I can now offer that to others."
Our Volunteer Profile series, written by communications volunteer Patrick Wilson, offers a behind-the-scenes look at some of the incredible people who help to deliver our mission. We are grateful for their compassion and commitment.